Despite her high performance, Venom will also have reasonably comfortable accommodation when cruising (about what you might expect in a 35 footer).
There is full standing head room, a settee, galley, refrigeration, 6 berths and a toilet/shower – but everything will be light.
Each bunk is 2m in length and 500-600mm in width (equivalent to an economy or business class airline seat width).
The 2 quarter berths will have head pieces that flip up to access the escape hatches beneath on each side (trimarans > 12m LOA need to have 2 escape hatches) – the starboard cabin layout image below is not completely accurate. Although the bunks will be snug, we will see if small lee cloths around the head of the bunk are needed to protect from any spray entering from the companionway. Hopefully the companionway pod will keep everything dry below!
The forepeak berth may need a midline lee cloth divider to make it usable whilst underway, however will be unlikely to be the preferred option under sail unless the occupant is a sound sleeper.
The settee seat will convert to a bunk when required. A fold down table and fold up galley top will enable 2-3 people to sit around the table.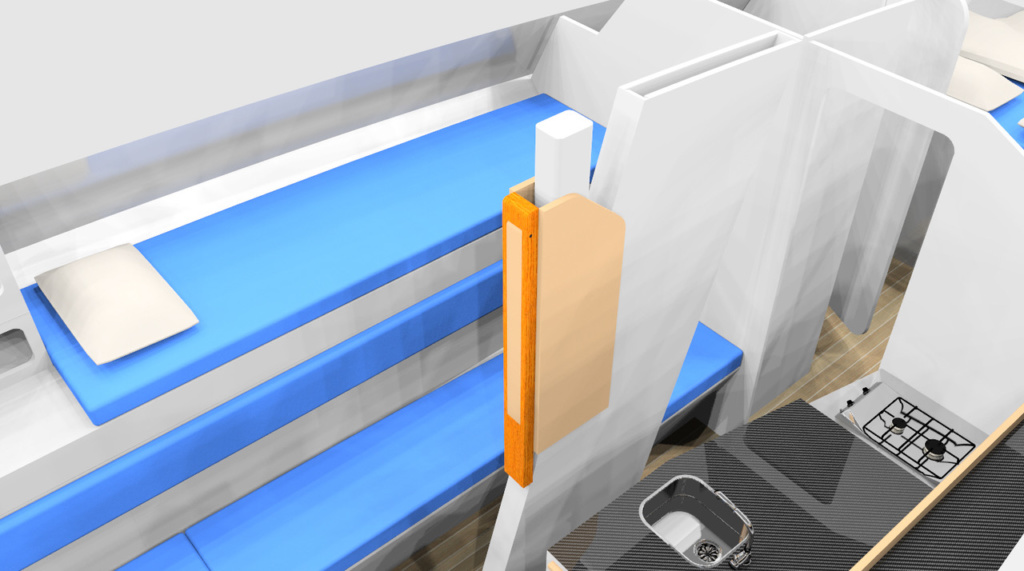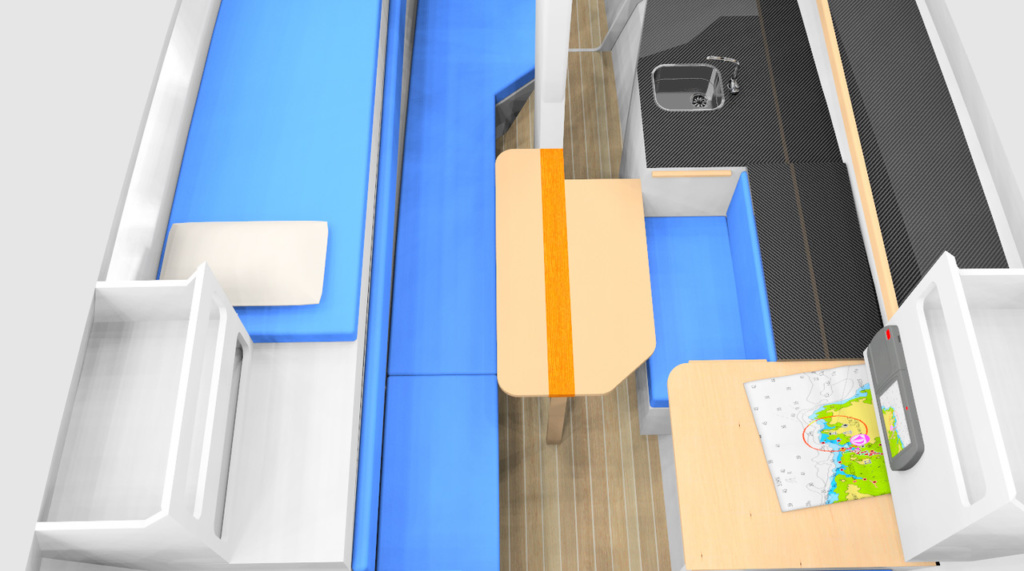 The forward compartment will be separated from the main cabin by a door to allow privacy for people to get changed.

A Nav station will be located on the starboard side with folding features around it that convert to seats for the nav station.
The equivalent area on the port side will be a wet weather gear storage area (not shown on the image above) and the cabin will be divided at this point into 'wet' and 'dry' zones for comfort.

Cooking will be limited to a 1 burner propane stove, with a second burner +/- a 12V reheating oven added when cruising.
Refrigeration will be provided by a portable 12V fridge that will slide out from under the cockpit behind the companionway.
The head will be a fixed portable toilet and the shower area may have a 12V water heater capable of heating up to 10L of water.
A portable solar shower is likely to be the main supply of shower water.
There will be 2 X 100L water tanks under the cabin sole amidships.

The head/shower area will be ventilated through a deck hatch and the forward compartment though the forward hatch.
Other ventilation hatches will be located over the galley and the equivalent location on the port side to enhance airflow through the cabin.
A small 12V fan will augment airflow when necessary.
Cabin windows in the main cabin are portholes that are able to be opened – further increasing ventilation if desired.
All hatches will have fly screens fitted when cruising to keep unwanted guests out.