Venom is a 12.8m T42 Grainger custom design trimaran.
She is designed to be a performance blue water cruiser/racer.
She is built to provide the highest possible stability and performance  (allowing for her level of comfort) without consideration of rating rules.
Venom is expected to be one of the fastest offshore yachts in Australia and should be a line honours contender in most races she enters.
Venom is being built by Australian Custom Multihull Yachts in the Gold Coast.

She is designed, engineered and built to the ISO 12215 Category A standard appropriate for ISAF/AS Category 0 transoceanic racing and will be fitted out to AS Category 2 race standard.
Venom is being professionally built using the highest quality materials (ATL) and components (Harken, Moonlight, Ronstan, B&G, Raymarine), from industry leading suppliers. Engineering work has been done by people with extensive experience in working on well-known and highly respected yachts. Spars and rigging will be supplied by Lorima, the worlds leading offshore multihull carbon mast manufacturer and sails will be by Quantum sails – Australia's leading sailmaker for multihull yachts.
She is of all infused carbon construction over a divinycell core with a 19.2m carbon rotating wing mast, and will have carbon sails and composite rigging.
Combined with her 200% buoyancy floats and wide beam she will be very stable and can safely be pressed hard – and will be similar in proportions to an ORMA 60.
She is designed to have C foils and T foiled rudders, for some extra lift and stability – but these will not be fitted initially.
There are rudders in each hull so can be sailed with the main hull lifting to reduce drag and as a safety back up.
The wave piercing float bows reduce pitching and the main hull has a beam:length ratio of 11:1 with a flat under surface to encourage planing.
The main point of all these features is for the boat to sail as much as possible on the water, rather than through it.
The sail plan will include an upwind screecher, J1, Heavy weather Jib, and storm jib. Downwind sails will include a masthead A3 kite and a Code Zero.
She will be set up to be able to be sailed short/single handed when cruising, although when racing fully crewed she will have 5-6 crew.
Venom will be powered by a 25HP 4 stroke outboard that will be fully retractable when under sail to reduce drag.
She will have solar panels capable of electrical autonomy whilst in operation and lithium batteries to minimise weight.
She will be called Venom because a high performance boat needs a name with a bit of bite – just enough to make your heart race and give you a bit of tingling, but not enough to kill you!
Under motor or sail she is expected to be able to cover 250-300 NM a day in most conditions.
The cockpit and raised area around the companionway will provide reasonable protection from the elements for the crew.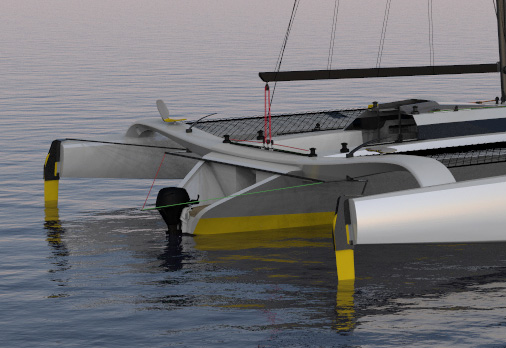 Venom will be based at the CYCSA in Adelaide, Australia from April 2019.
After a period of getting to know the new boat, the Venom Sailing team will compete in major regattas around Australia in 2019-2020.